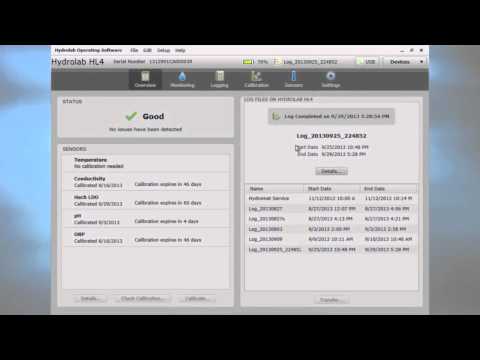 Learn about the importance of Metadata in water quality monitoring programs
Hydrolab Operating Software
The Hydrolab Operating Software is the PC-based application for interfacing with Hydrolab HL Series sondes, the Hydrolab Surveyor HL, and Hydrolab communications modules.  It is designed for intuitive water quality data collection, sensor calibration, settings adjustment, and metadata access.
Features
Know your instrument is working correctly with instrument and sensor statuses that are shown
Calibrate sensors and check sensor calibrations with guided and semi-automated calibration routines
Monitor water quality data real-time or set up a log file for long term monitoring
Access and create metadata that give system information, calibration history, user information, and site information
Configure sonde, sensor, and communications settings
Compatible with any recent version of a full Microsoft Windows Operating System on a laptop, desktop, or ruggedized device
Click the following links to view the Hydrolab Operating Sofware Overview, Calibration, and Monitoring videos.
Specifications
Compatible with Microsoft Windows XP SP3, Vista, 7 (32 bit or 64bit) or 8
For Hydrolab Operating Software and sensor firmware downloads, please visit www.ott.com.